As reported in the 2008 edition of the report on open source published by Coverity, a U.S. company that produces tools for software development, including a tool for static code analysis, the quality of open source code would be improved by 16% compared to the report dated 2006. Which rose by 1 error per 3333 lines of code to 1 error every 4000 lines of code.
In the analysis carried out by Coverity have been taken into consideration 55 million lines of code, written in C, C + +, Java, belonging to 250 open source projects and found that
The overall quality and safety of open source software is getting better;

there is a prevalence of specific errors, the most common error is the "Null pointer dereference", while the least common is "Use before test";

There is a strong linear relationship between the size of the code and the number of errors found;

Cyclomatic complexity and effort according to Halstead .

Research indicates that these two measures of code complexity are significantly related to the size of the code;

The rate of false positives identified in this analysis is below 14%.

3853 of 28916 errors (the 13.32%) were false positive results;
The most common error found in the following figure is the "class", is the "Null pointer dereference" which represents 27.95% of the errors found.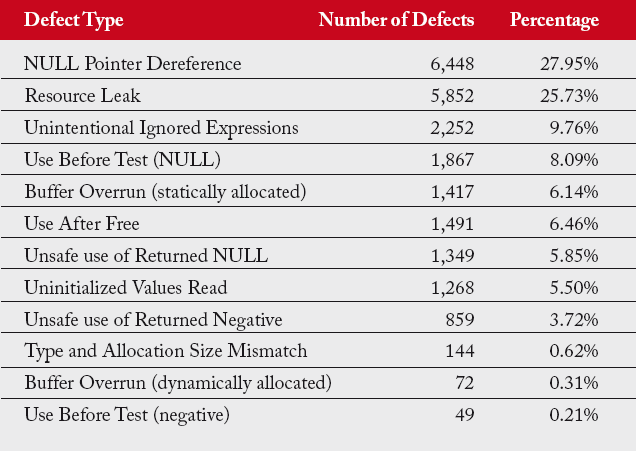 Posted in Category: C / C + + , Java , News , Programming , Software .
Tags: open source , Programming .
Comments